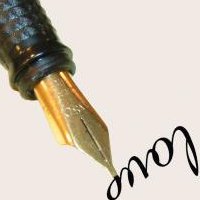 Sometimes I feel like writing; I don't claim that what I write is good, but I like reading what I have written.
aug-12-2

Fri Aug 13 00:34:25 EDT 2004
updated Aug 15

the EARTH is so full of Emptiness
  blank pages say there is more
    but why aren't they?

 TIME marks the empty fullness
   heals all absent blankness
     and flies past nothing

    I am scored and I mark
       I see it all with
          INKY lenses
 
  -=> I want to shatter <=-

SCARS that TIME has left on me
    they beseech it:
  heal me or the world?

Does it hesitate?
  Or is it myself
    drawing the air?

I think it would be easier to drown
    than to breathe it again
 Yet we may yet swallow each other

will the EARTH swallow me
      or will TIME?

will EARTH and TIME be then marked?
      or will I be erased?