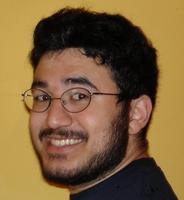 There are
over 6.5 billion people
on planet earth, right? You're very lucky; you're looking at the personal home page of the only
Iraqi
-born,
Kansas
-raised graduate student in computational linguistics at MIT. Who's special? You are. Welcome.
As you can see from my "business card" above, I'm a grad student at MIT. I'm working on my Ph.D. in computer science, specializing in natural language processing and working under the guiding force of
Boris Katz
. I did my master's here with
Prof. Michael Collins
.
"Alawi" is the diminutive, possessive form of the Arabic name "Ali", and is a common nickname for Ali in some parts of Iraq. I'm not a member of the Shi'a sect called
Alawi
and I am not related to
Iyad Allawi
.
I'm from this little Iraqi village near the Syrian border called
Rawa (see if you can find it on this 1970 Iraqi tourist map — it's on the Euphrates)
. I'm related (one way or another) to every Iraqi whose last name is "Al-Rawi".
Unlike many residents of the
Stata center
(e.g.,
Percy
), I have an
office
.
I'm a big fan of
free software
and the
open source
movement. I'm also a
Linux
junkie (most of my computers run
Gentoo
nowadays, but I like
Debian
a lot, too, and I'm starting to shift to
Ubuntu
!). I edit text files in
Vim
, typeset documents in
LaTeX
, edit pictures in
the Gimp
, play music in
XMMS
, browse the web in
Firefox
, and IM people in
gaim
. I spend the other half of my life in
xterm
s.
Everyday coding should be done in
Ruby
or
Python
, the nicest languages I know of (Ruby is cleaner, but I'm still more comfortable with Python... old habits die hard). When you need to squeeze out every last bit of space or speed from your machine, code in
Java
or
C
. Web programming in
PHP
and
Ruby on Rails
is fun (CGI, ASP, Java servlets ... not fun!). I routinely write
bash
and
awk
scripts, and you should, too.
Whoa, I took an online test and was (whoa) proud of the results. The shame, the shame!