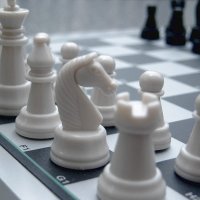 First of all, you have to check out
the last chess engine I wrote
. I like it. Here is
a converter from Yahoo's format to PGN
and
an EDN to PGN converter
(EDN stands for
English Descriptive Notation
, a system that isn't much in use anymore).
PGN (Portable Game Notation)
is the standard notation for recording and exchanging chess games. I use
eboard
under Linux to view games. Windows users: I hear
WinBoard
is not bad. Once you have a PGN viewer, check out my
collection of games
.
Imran Hendley is an awesome chess player. Here are the books he recommended to me and the comments he made at the time:
There are a lot of crappy chess sites online. These aren't too bad:
To typeset chessboards in LaT
E
X, use
tex-chess
. It's not bad! I have a book by Reinfeld that's falling apart ("Chess Mastery by Question and Answer") which I started typing up using
tex-chess
(
[PDF]
,
[Source]
).
What Imran said about this page: "Excellent page. 10/10. In fact, 11/10."